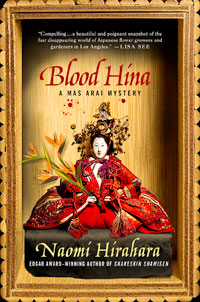 Contests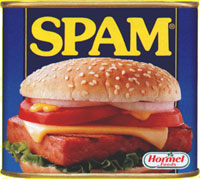 SPAM! WONDERFUL SPAM!
Thanks to all for participated in our inaugural Mas Arai Spam Contest.
Liz Peck of Albuquerque, New Mexico, is the winner. She receives a basket filled with a signed copy of Snakeskin Shamisen, an Okinawan music CD, Go for Broke veterans cookbook, Spam musubi (sushi) maker, nori (seaweed) and, of course, Spam!
Stay tuned for future contests.
THE WINNING ENTRY
"Growing up, we had Spam with brown sugar and mustard. I can picture Papa now—he cooked our meals—carving the Lilliputian size main course, just like pretend ham!"
—Liz Peck, Albuquerque, New Mexico
YOUR FINALISTS
"Personally, I DETEST Spam. But, I had a friend in college who loved the stuff. She would make it during finals week. She would take a slice of Spam and add a slice of American cheese and encase it in Pillsbury biscuit dough. She would then bake it. What a waste of perfectly good cheese.This concoction reminded me too much of a horror from my youth—scrapple. I always hugged my stash of chocolate whenever she offered the Spam and cheese biscuit."
—Sue Bartle, Rockville, Maryland
"I'm sure I won't be the only one to say so, but to me, there is just nothing better than Spam fried rice with a nice fried egg on top. The yolk should still be runny. Mmmmm.
"My recipe is pretty basic and varies with whatever's in the fridge.
"Dice up the spam, and brown it in the frying pan. I like it pretty crispy around the edges. This is where the fat-conscious might want to drain off the grease. Add onions, green onions, mushrooms, celery, carrots, etc. according to taste, and what's in the fridge.
"Here's the tricky part: the rice. If it's been in the fridge and is all hard and crunchy, I wet it down, and break up the clumps. Then add the rice to the pan, and mix it all up. You want to let it sit and fry at a medium heat till it gets crispy on the bottom, then stir it and flip it, etc. Salt (a little) pepper (a good amount) garlic, dash of shoyu (soy sauce). Some people like to add an egg and stir it in. This is usually a last step.
"You want the rice to have a nice firm texture, so you have to cook it till all the extra water has been cooked out. This usually takes about 15-20 minutes, but some people have been known to be impatient and get it out early, possibly even microwaving it a bit. Heathens.
"Best served in a nice big bowl, and top with a fried egg. Breakfast of Champions."
—Elaine Yamaguchi, Woodland, California
"As a kid, I ate Spam fried and rolled into a hot corn tortilla with a bite of serrano chili and some salsa."
—Nellie Estrada, Chino Hills, California
"My mother made sandwiches called Touchdowners that had ground Spam, grated cheese, and pickle relish mixed together, then put on a hamburger bun, wrapped in foil and the packet was heated. She got the recipe out of some magazine or newspaper for things to eat while watching football on TV. This was over 40 years ago and I still remember them fondly. I made them myself through college and early marriage, but it has been 30 years now since I've had any and I'm not sure if I could track the recipe down at this point."
—Lois Reibach, Blue Bell, Pennsylvania
And in a magnanimous move, a reader from Eugene, Oregon, offered her recipe reminiscent of Lois' Touchdowners:
"Actually, the recipe which I have (also a childhood favorite) is made with bologna, but I think otherwise it is the same.
1 lb. bologna
3/4 lb. sharp cheddar, grated
1/4 c. prepared mustard
1/3 c. mayonnaise
1 T minced or grated onion
2 T sweet pickle relish
Grind bologna. Add other ingredients and mix well. Spread on hamburger buns and wrap in foil. Bake at 325 for 25 minutes."
—Janet Cearley
© Naomi Hirahara. Web site by interbridge.