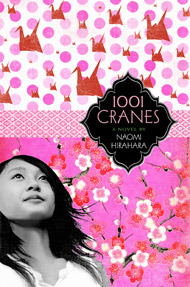 1001 CRANES: A Novel
Delacorte Books for Young Readers
Middle grade, 10 years old and up
Hardcover: 978-0-385-73556-8 $15.99
Library Edition: 978-0-385-90541-1 $18.99
e-book: 978-0-375-84881-0 $12.99
Yearling Trade Paperback: 978-0-440-42234-1 $6.50
When twelve-year-old Angela "Angie" Michiko Kato arrives in Gardena, a small town outside of Los Angeles, the last thing she wants is to spend the entire summer there. She'd rather be home in Mill Valley, just north of San Francisco, hanging out with her friends and riding her skateboard. But in the Kato family, one is never permitted to monku—although the quiet, observant Angela doesn't know how she can resist complaining when her mother and father decide to send her to stay with her grandparents and aunt to shield her from the pain their impending divorce might cause her.
Angela doesn't believe being hundreds of miles away will help her feel any better, especially because she's convinced she'll be bored to death in her grandparents' cramped house. But Gramps, Grandma Michi, and Aunt Janet plan to keep Angela occupied in their flower shop, folding origami "1001 crane" displays for newlyweds. At first, Angela is reluctant to learn the craft and make friends with the people who come into the shop—a pint-sized African American judo student, a cute skateboarder named Tony, and Buddhist bridezilla, just for starters. But soon her folding skills improve and her relationships with family and friends grow, all of which helps Angela keep her life in perspective despite the troubles she faces.
"A wonderfully engaging and poignant novel about a revered Japanese-American custom that transforms the life of a lost young girl."
—Cynthia Kadohata, Newbery Award–winning author of Kira-Kira
"Well-written and episodic, this is an easy read that seeks to explain how relationships work or don't, and to reassure readers that it is possible to survive even the worst."
—Kirkus Reviews
1001 Cranes by Naomi Hirahara is available wherever books are sold, including:
Your local independent bookstore
Japanese American National Museum's Museum Store
Barnes and Noble
Amazon.com
Heritage Source
For the media: Download high resolution photos of Naomi and the book cover. Right click on the image and select "save as."