Inspiration from Book Events
Posted On February 25, 2020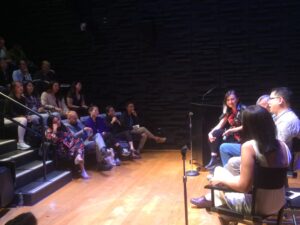 When you become a published writer, the bookstore or event venue becomes your networking station. That's where you meet other fellow writers, exchange gossip and sometimes share challenges in the publishing world. On occasion–and perhaps it should be every occasion, you learn craft.
I went to two book events last week, a lot for me these days. It was worth it because in both instances, authors were coming from out of town. I attended to celebrate their achievements and contributions, but as it turned out, I also was surprisingly inspired and educated. It was encouraging to hear their readings, how they craft and arrange their words in different ways. Each story was powerful and entertaining in its own way.
Lately, as I work on my novel-in-progress, I judge my pages very harshly. I wonder if I'm losing it as I age. I can't remember words as easily as I used to. But listening to the prose of my colleagues, I was both inspired and strengthened. They reminded me that I don't need to use verbal gymnastics–I can use simple words to evoke very complex emotions. When I got home and I read what I had written that day, I was pleasantly surprised. There was something meaningful on those pages. More work needs to be done, of course. But I know that I have what it takes to make it better.