Japanese Breakfast
Posted On October 17, 2021
Ever since I traveled to Japan with my family and stayed at hotels and ryokans (inns), I have had a love for Japanese breakfast. Served on a tray or in a bento box, the Japanese breakfast usually includes broiled fish with grated daikon, rice, stewed vegetables, salad and sometimes natto. A heavy western breakfast or brunch can make me feel sleepy later in the day, but the Japanese breakfast is fuel for more activity. I'm too lazy to recreate it at home, but during the pandemic, I've found two places that have replicated my experience in Japan.
TAKEOUT: Ise-Shima in the Miyako Hybrid Hotel in Torrance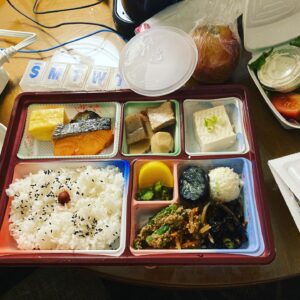 This to-go bento box is amazing. It offers the protein of fish, tamago-yaki (egg omelet), tofu and natto. A lot of hard-to-make dishes with gobo (burdock root) are included. It's only available between 7 and 9 AM (we happened to be staying at the hotel when we ordered), but it's worth it. I can also recommend the hotel for a staycation–deep Japanese bath for deep soaking.
OUTDOOR DINING: Azay in Little Tokyo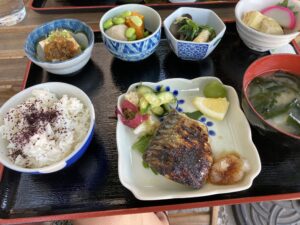 Azay's Japanese breakfast is not as extensive as Ise-shima's, but it's fresher and more colorful with an unusual seasonal punch. Plus you get to eat it right there on sidewalk beside First Street, making it a fun, urban experience. The day I went fresh soybean was mixed with kabocha (Japanese pumpkin) and satoimo (Japanese taro). If that isn't a power combination, I don't know what is. Word of Azay's Japanese breakfast has hit foodie websites, so expect a wait.
There's a couple of other Japanese breakfast places that I need to go to in the near future: Fukugawa in Gardena and in Yang's Kitchen in Alhambra. I've been to Fukagawa, but it's been a while. I'll let you know when I make it over.
Ise-Shima, Miyako Hybrid Hotel, 21381 S Western Ave, Torrance, CA 90501; Japanese breakfast menu available only between 7 AM-9 AM.
Azay, 226 E 1st St, Los Angeles, CA 90012; Japanese breakfast available during the hours of 11 AM-1:30 PM, Tuesday-Sunday.