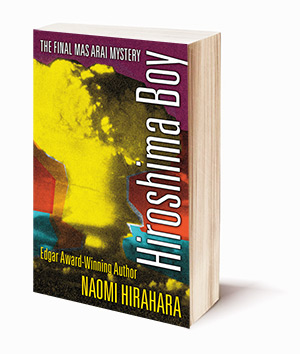 Available Now:
Amateur sleuth Mas Arai is back in Hiroshima Boy―nominated for the Edgar Award!
Also nominated for the Anthony and Macavity Awards
To be translated into Japanese by Shogakukan
L.A. gardener Mas Arai returns to Hiroshima to bring his best friend's ashes to a relative on the tiny offshore island of Ino, only to become embroiled in the mysterious death of a teenage boy who was about the same age Mas was when he survived the atomic bomb in 1945. The boy's death affects the elderly, often-curmudgeonly, always-reluctant sleuth, who cannot return home to Los Angeles until he finds a way to see justice served.
Buy it: Vroman's | Book Carnival | Mysterious Galaxy | Amazon | IndieBound | Barnes & Noble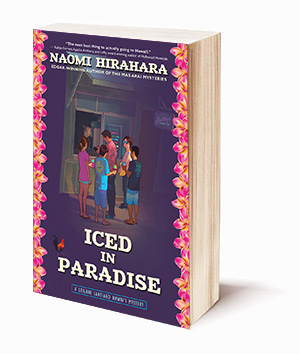 Available Now:
Leilani Santiago has left her post-collegiate life in Seattle to return home to the Hawaiian island of Kaua'i. Her mom's been diagnosed with MS, and she wants to help keep afloat the family business, a shave ice shack. When Leilani arrives at work one morning, she stumbles across a dead body, a young pro surfer who was being coached by her estranged father. As her father soon becomes the No. 1 murder suspect, Leilani must find the real killer and somehow safeguard her ill mother, little sisters, and grandmother, while trying to keep the long-distance relationship with her boyfriend alive.
Buy it: Vroman's | Book Carnival | Mysterious Galaxy | Amazon | IndieBound | Barnes & Noble
Advance Praise for Iced in Paradise:
"A delicious multicultural mystery with an instantly lovable heroine, lively family dynamics, and a vivid sense of place. I inhaled it like my favorite shave (not shaved!) ice!"
—Sarah Kuhn, author of Heroine Complex
"Iced in Paradise proves why Edgar-winning author Naomi Hirahara is among today's best traditional mystery writers. She magically intersperses Hawaiian culture with an intriguing murder mystery. It's a good thing this is a planned series because you'll want to spend lots of time with Leila Santiago and in her family's shave ice store. The next best thing to actually going to Hawai'i."
—Kellye Garrett, Agatha, Anthony, and Lefty award-winning author of Hollywood Homicide
© Naomi Hirahara.
Photo of Naomi by Mayumi Hirahara.
Web site by interbridge.
Connect With Naomi