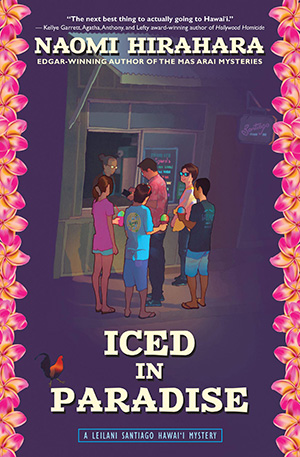 Prospect Park/Turner Publishing hardcover, trade paperback and ebook, 2019
Distributed by Ingram
Leilani Santiago has left her post-collegiate life in Seattle to return home to the Hawaiian island of Kaua'i. Her mom's been diagnosed with MS, and she wants to help keep afloat the family business, a shave ice shack. When Leilani arrives at work one morning, she stumbles across a dead body, a young pro surfer who was being coached by her estranged father. As her father soon becomes the No. 1 murder suspect, Leilani must find the real killer and somehow safeguard her ill mother, little sisters, and grandmother, while trying to keep the long-distance relationship with her boyfriend alive.
"The cantankerous Leilani and island setting intrigue… subplots [include] the troubled history of Hawaiian land ownership, the devastating effects of alcoholism…"
—Publishers Weekly
"A delicious multicultural mystery with an instantly lovable heroine, lively family dynamics, and a vivid sense of place. I inhaled it like my favorite shave (not shaved!) ice!"
—Sarah Kuhn, author of Heroine Complex
"Iced in Paradise proves why Edgar-winning author Naomi Hirahara is among today's best traditional mystery writers. She magically intersperses Hawaiian culture with an intriguing murder mystery. It's a good thing this is a planned series because you'll want to spend lots of time with Leila Santiago and in her family's shave ice store. The next best thing to actually going to Hawai'i."
—Kellye Garrett, Agatha, Anthony, and Lefty award-winning author of Hollywood Homicide
"After returning home to Kaua'i to help her family, Leilani Santiago finds herself in the midst of a murder investigation and torn between her loyalties. Naomi Hirahara perfectly captures Leilani's Caucasian-Filipino-Japanese multicultural family, with its unique blend of traditions, dialogue, and food. Hirahara depicts local flavors and a gorgeous setting few Mainlanders ever see, along with the challenges of life on a tourist-driven island. This is a delightful new series that promises more compelling adventures of this sharp-witted, relatable heroine."
—Cynthia Chow, branch manager of Kaneohe Public Library, O'ahu
"In Iced in Paradise, we are introduced to Leilani Santiago, a refreshing millennial heroine full of wit, sass, and (as much as she may try to hide it) heart. I tore through this book, delighting in the authenticity of the setting as much as the nuanced cast of characters. Naomi Hirahara has once again crafted a complex mystery steeped in culture that readers will adore."
—Jill Orr, author of The Good Byline and The Ugly Truth