Short Bio: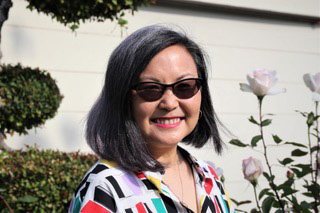 Naomi Hirahara is an Edgar Award-winning author of multiple traditional mystery series and noir short stories. Her Mas Arai mysteries, which have been published in Japanese, Korean and French, feature a Los Angeles gardener and Hiroshima survivor who solves crimes. Her first historical mystery, Clark and Division, which won a Mary Higgins Clark Award, follows a Japanese American family's move to Chicago in 1944 after being released from a California wartime detention center. A former journalist with The Rafu Shimpo newspaper, Naomi has also written numerous non-fiction history books and curated exhibitions. She has also written a middle-grade novel, 1001 Cranes. Her follow-up to Clark and Division, Evergreen, will be released this August.
Long Bio:
Naomi Hirahara was born in Pasadena, California. Her father, Isamu (known as "Sam"), was also born in California, but was taken to Hiroshima, Japan, as an infant. He was only miles away from the epicenter of the atomic-bombing in 1945, yet survived. Naomi's mother, Mayumi, or "May," was born in Hiroshima and lost her father in the blast. Shortly after the end of World War II, Sam returned to California and eventually established himself in the gardening and landscaping trade in the Los Angeles area. After Sam married May in Hiroshima in 1960, the couple made their new home in Altadena and then South Pasadena, where Naomi and her younger brother Jimmy grew up and attended secondary school.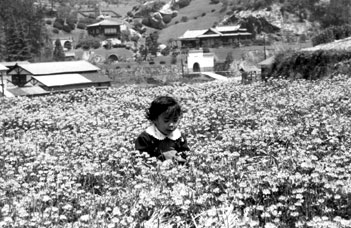 Naomi received her bachelor's degree in international relations from Stanford University and studied at the Inter-University Center for Advanced Japanese Language Studies in Tokyo. She also spent three months as a volunteer work camper in Ghana, West Africa.
She was a reporter and editor of The Rafu Shimpo during the culmination of the redress and reparations movement for Japanese Americans who were forcibly removed from their homes during World War II. During her tenure as editor, the newspaper published a highly-acclaimed inter-ethnic relations series after the L.A. riots.
Naomi left the newspaper in 1996 to serve as a Milton Center Fellow in creative writing at Newman University in Wichita, Kansas.
After returning to Southern California in 1997, she began to edit, publish, and write books. She edited Green Makers: Japanese American Gardeners in Southern California (2000), published by the Southern California Gardeners' Federation and partially funded by the California Civil Liberties Public Education Program. She then authored two biographies for the Japanese American National Museum, An American Son: The Story of George Aratani, Founder of Mikasa and Kenwood (2000) and A Taste for Strawberries: The Independent Journey of Nisei Farmer Manabi Hirasaki (2003). She also compiled a reference book, Distinguished Asian American Business Leaders (2003), for Greenwood Press and with Dr. Gwenn M. Jensen co-authored the book, Silent Scars of Healing Hands: Oral Histories of Japanese American Doctors in World War II Detention Camps (2004) for the Japanese American Medical Association. Under her own small press, Midori Books, she has created a book for the Southern California Flower Growers, Inc., A Scent of Flowers: The History of the Southern California Flower Market (2004). Other Midori Books projects include Fighting Spirit: Judo in Southern California, 1930-1941 (co-authored by Ansho Mas Uchima and Larry Akira Kobayashi, 2006).
Summer of the Big Bachi (Bantam/Delta, 2004) was Naomi's first mystery. The book, a finalist for Barbara Kingsolver's Bellwether Prize, was also nominated for a Macavity mystery award. The completion of the novel was made possible by support from the California Community Foundation's Brody Arts Award; Hedgebrook in Whidbey Island, Washington; Pacific Asian Women Writers-West; UCLA Extension Writers' Program; and again, the Milton Center, which has since moved to Seattle, Washington.
Receiving a starred review from Publishers Weekly, Summer of the Big Bachi was included in the trade magazine's list of best books of 2004, as well as the best mystery list of the Chicago Tribune. Gasa-Gasa Girl, the second Mas Arai mystery, received a starred review from Booklist and was on the Southern California Booksellers' Association bestseller list for two weeks in 2005. Snakeskin Shamisen, the third in the series, was released in May 2006. In April 2007 it won an Edgar Allan Poe award in the category of Best Paperback Original. The third Mas Arai book was followed by Blood Hina, Strawberry Yellow, Sayonara Slam and Hiroshima Boy, all currently published by Prospect Park Books. The seventh and final Mas Arai mystery, Hiroshima Boy, was nominated for an Edgar Award in the category of Best Paperback Original, an Anthony and a Macavity.
Naomi also has two books in her Officer Ellie Rush bicycle cop series, Murder on Bamboo Lane, winner of the T. Jefferson Parker Mystery Award, and Grave on Grand Avenue, both published by Penguin Random House. Her series set in Hawai'i featuring Leilani Santiago is connected to the world of Ellie Rush. The series begins with Iced in Paradise, released by Prospect Park Books. Her only book for younger readers, 1001 Cranes (Delacorte), received an honorable mention in Youth Literature from the Asian/Pacific American Librarians Association.
Nonfiction books include the multiple award-winning Terminal Island: Lost Communities of Los Angeles Harbor (Angel City Press), co-written by Geraldine Knatz, and Life after Manzanar (Heyday), co-written by Heather C. Lindquist. Naomi has also curated exhibitions at Descanso Gardens and the Los Angeles Maritime Museum.
Naomi and her husband Wes make their home in Southern California. Naomi served as chapter president of the Southern California chapter of the Mystery Writers of America in 2010.
Listen to an interview with Naomi about the Mas Arai Series on NPR's Morning Edition!