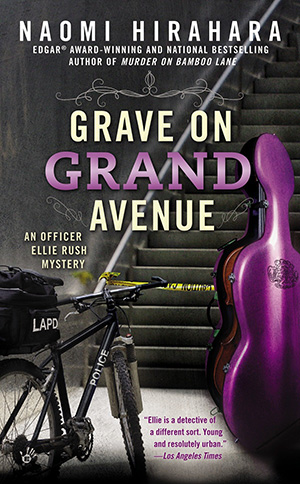 Berkley Prime Crime paperback and ebook, April 2015
LAPD bicycle cop—and aspiring homicide detective—Ellie Rush is back on patrol in the next installment from the award-winning author of Murder on Bamboo Lane.
While patrolling one of LA's premier concert halls, Ellie stops for a chat with a gardener—and is shocked to discover him minutes later, clinging to life at the bottom of a staircase. The claim is that he was knocked down while attempting to steal a multi-million dollar cello, but Ellie has trouble believing that.
Ellie has issues of her own to deal with—like the curious theft of her car—but after the gardener takes his last breath and the cellist mysteriously disappears, it's clear that she must act quickly before someone else falls silent…
"Delightfully original… Readers will look forward to seeing more of the ambitious Ellie."
—Publishers Weekly
"I absolutely adore this series, and the second entry continues with strong writing and fully-developed characters… Ellie and the challenges she faces as a new police officer… will have readers yearning for more."
—Cynthia Chow, Kings River Life