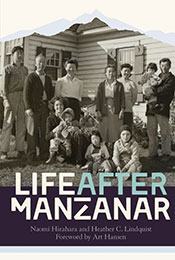 LIFE AFTER MANZANAR
Heyday with Manzanar History Association
April 2018
From the editor of the award-winning Children of Manzanar, Heather C. Lindquist, and Edgar Award winner Naomi Hirahara comes a nuanced account of the "Resettlement": the relatively unexamined period when ordinary people of Japanese ancestry, having been unjustly imprisoned during World War II, were finally released from custody. Given twenty-five dollars and a one-way bus ticket to make a new life, some ventured east to Denver and Chicago to start over, while others returned to Southern California only to face discrimination and an alarming scarcity of housing and jobs. Hirahara and Lindquist weave new and archival oral histories into an engaging narrative that illuminates the lives of former internees in the postwar era, both in struggle and unlikely triumph. Readers will appreciate the painstaking efforts that rebuilding required, and will feel inspired by the activism that led to redress and restitution—and that built a community that even now speaks out against other racist agendas.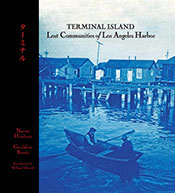 TERMINAL ISLAND: LOST COMMUNITIES OF LOS ANGELES HARBOR
Angel City Press and the Port of Los Angeles
January 2015
Few Los Angelenos have visited Terminal Island, a sheltered spot in the Pacific Ocean that once served as a resort for wealthy Southern California landowners and as a refuge for its artists and writers and scientists, all in need of a respite from the heat of the city. There renowned Angeleno Charles Lummis was a squatter in his beloved oceanside shack, the Jib-O-Jib. Bookbinder Idah Strobridge brought together the Bohemians who soon would be the Arroyo Culture, as they sought inspiration and camaraderie. There, too, the Scripps Institute of Oceanography was born under another name.
Not long after the rich and creative were driven away by a greedy throng of industrialists and railroad magnates and the politics they wrought, Terminal Island became home to another thriving community, this time a small world of Japanese families, people whose link was their lineage and their amazing ability to capture the most and biggest fish the Pacific had to offer. They were the fishermen of Terminal Island. And their wives. And their children. And their spirit. They were at the heart of one of Southern California's most important businesses: the fisheries.
And then came a war. A world war that devastated the hopes, dreams, homes, and families of the Japanese who lived on Terminal Island. And it became, in the truest, deepest sense, a ghost town.
· Bruckman Award for Excellence in a Book about Los Angeles from the Los Angeles Public Library
· Award of Merit for Scholar/Authorship from the Conference of California Historical Societies
· Third place for the national "Best Book" Award by Westerners International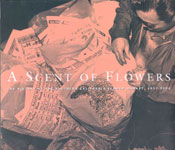 A SCENT OF FLOWERS: THE HISTORY OF THE SOUTHERN CALIFORNIA FLOWER MARKET, 1912-2004
Midori Books
2004
A Scent of Flowers traces the century-long contributions of Japanese Americans and other ethnic Americans to the Southern California floricultural industry. Where there are now schools, shopping centers, and freeways were once acres of flowers, ranging from sweet peas and daisies to chrysanthemums and carnations. The Southern California Flower Market, founded by Japanese immigrants in 1912, was the first centralized center for flower sales in the region. Enter this vibrant world through the stories and photographs of these hard-working families. Through their experiences, readers will get a sense of how Southern California and its people have evolved from when the land was filled with fields of food and flowers.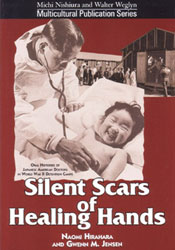 SILENT SCARS OF HEALING HANDS: ORAL HISTORIES OF JAPANESE AMERICAN DOCTORS IN WORLD WAR II DETENTION CAMPS
By Naomi Hirahara and Gwenn M. Jensen
Center for Oral and Public History California December 2004
This book opens the door to the lives of the Japanese Americans who practiced medicine under the most stressful conditions: within the confines of detention centers in their own country during World War II. These excerpts from original oral histories, collected by a special team organized by the Japanese American Medical Association, tell the story of men and women who depended on ingenuity and compassion to care for their patients in makeshift hospitals in remote areas of the United States. Proceeds from the sale of Silent Scars of Healing Hands benefit the Japanese American Medical Association Scholarship Fund.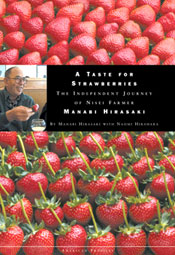 A TASTE FOR STRAWBERRIES: THE INDEPENDENT JOURNEY OF NISEI FARMER MANABI HIRASAKI
By Manabi Hirasaki with Naomi Hirahara
Japanese American National Museum
November 2003
A young boy running through the garlic fields of Gilroy, California. A Japanese American on the battlefields of World War II Europe. A thirty-something man staking out new land for a farming venture that would change his life. Manabi Hirasaki, the son of a successful California farmer, lived this Nisei experience in his own way and on his own terms. A Taste For Strawberries vividly recounts one man's enduring relationship with the world of strawberries and his rise to become the first non-European American board member of Driscoll Strawberry Associates, the world's largest commercial strawberry distributor. A 522nd Field Artillery Battalion veteran, savvy entrepreneur, and generous philanthropist, the story of Mr. Hirasaki's life is sure to touch readers with its spirit and humor. A Taste For Strawberries is the second in the American Profiles series of biographies published by the Japanese American National Museum.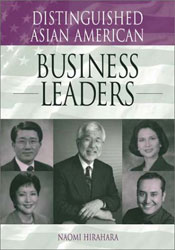 DISTINGUISHED ASIAN AMERICAN BUSINESS LEADERS
Greenwood Press
March 2003
Although there are other reference books about Asian Americans, no other book focuses solely on businesspeople. This collection of engagingly written biographies gives the details on the lives of 96 Asian men and women who have had successful business careers, giving information on their education, training, and career highlights and histories. The book provides valuable information as well as inspiration to students, from high school through university. Each biography concludes with references for further reading, and an appendix lists the people profiled by field of business, from fashion to restaurant franchises, from high technology to the movie industry.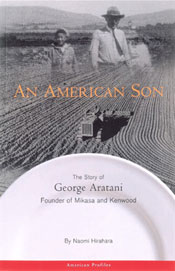 AN AMERICAN SON: THE STORY OF GEORGE ARATANI, FOUNDER OF MIKASA AND KENWOOD
Japanese American National Museum
May 2001
Decades before trade moved between the United States and Japan at its present pace, there was a Japanese immigrant's son with an American dream. Born to a farming tycoon in California, George Aratani was forced to leave the family business behind when incarcerated with over 100,000 Japanese Americans during World War II. After the war, he traveled to Japan with little idea of what he would import from the war-devastated archipelago. What followed was the development of two powerful businesses, Mikasa and Kenwood. The story of the many who founded these companies not only reflects the economic rebuildling of Japan, but also the struggle of Japanese Americans to make significant contributions to American history. First in the American Profiles series published by the Japanese American National Museum.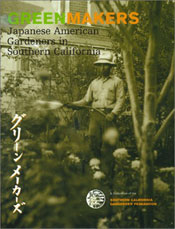 GREEN MAKERS: JAPANESE AMERICAN GARDENERS IN SOUTHERN CALIFORNIA
California Gardeners' Federation
December 2000
Green Makers explores the little-known history of an enterprising group of men and women. Learn how Japanese American gardeners transformed the Southern California landscape for more than a century. Equipped with only pick-up trucks and lawnmowers, they faced discriminatory laws and even the forced removal from their homes during WWII. Yet they remained committed to their goal: to make Southern California green for their families, ethnic communities, and region. This volume includes original writings, photographs, historic summaries, and a timeline spanning a hundred years. Written in both English and Japanese. B/W photos.