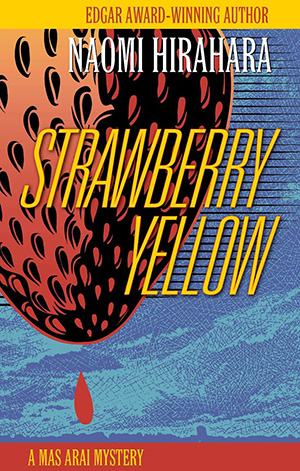 Prospect Park Books trade paperback and ebook, February 2013
Distributed by Ingram
This fifth installment is set in the strawberry fields of Watsonville, California, where young Mas first arrived from Hiroshima in the 1940s. Now a semi-retired gardener who lives in an L.A. suburb, he returns for the funeral of a cousin and quickly gets entangled in the murder of a young woman. Was his cousin murdered, too?
Mas has to figure out what happened, keep himself safe in the face of considerable peril, and uncover the mystery of the Strawberry Yellow blight—and a new strawberry varietal so important that it could be inspiring a murderer.
"Mas' fifth case has both depth and an intricate whodunit, weaving flashbacks of the sleuth's complicated youth with the starker contemporary reality of buried resentments and revenge."
—Kirkus Reviews
"Mas, less an amateur detective than a cranky, accidental one, is what makes the story work. His obdurance, his skill as a listener, and even his broken English are charming in a quirky, uncomplicated way."
—Booklist
"A shrewd sense of character and a formidable narrative engine."
—Chicago Tribune
Finalist for T. Jefferson Parker Mystery Award